HONEY VANILLA CHEESE FRUIT DIP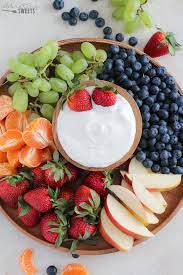 Cottage cheese is a budget-friendly ingredient that I have fallen in love with. Cottage cheese can be a bit bland for some people. However, if you blend it in a blender, it's as creamy and smooth as yoghurt and just as versatile. A few months ago, I made a savoury Garlic and Herb Cottage Cheese Dip, so I decided to make a sweet version that can be used as a dip for fruit. This sweet, creamy, and tangy Honey Vanilla Cottage Cheese Fruit Dip is a great option for dessert.
WHY COTTAGE CHEESE?
Cottage cheese is a low-cost alternative to Greek yoghurt. It has a creamy-tangy taste and high protein content. The 24oz. The 24oz. The tub of cottage cheese I purchased was $1.59 instead of $3.99 for Greek yoghurt. The cottage cheese texture is thick and creamy once blended in a blender. It can be used with sweet or savoury ingredients, like Greek yoghurt.
What type of COTTAGE CHEESE is the best?
Choosing the right brand and type for your cottage cheese is important. Low-fat cottage cheese is best avoided for the creamiest dip. Aldi's full fat cottage cheese (which is only 4% milkfat, slightly less than whole milk) was used in my recipe. The dip was rich and creamy. This recipe was also tested with Breakstone low fat cottage cheese (2% dairy fat). The result was slightly chalky. You should make sure that the cottage cheese you use is one you like the taste of plain. It will be delicious in the dip.
HOW TO USE A FRUIT DIP
This fruit dip can be used for more than just the obvious purpose of dipping fresh-cut fruits. It can be added to your fruit smoothies, much like yoghurt. It can be used to make a parfait using fresh fruit and granola. Or you can make "fruit nachos" with cinnamon pita chip, finely chopped fresh fruits, and a drizzle of this fruit dip.
Simply use a hand mixer or stand mixer to beat all ingredients until light and fluffy. You can easily adjust the flavour by adding more honey to make it sweeter or more yoghurt to make it tangy. My family likes it exactly as written. The perfect combo of sweet, creamy and tangy.
HONEY VANILLA CHEESE FRUIT DIP
This deliciously sensible dessert fruit dip is made with cottage cheese. It's whipped into a smooth texture and sweetened with honey.
Prep time: 5 minutes
Cook Time: 0 minutes
Total Time: 5 minutes
INGREDIENTS
1 cup cottage cheese (4% fat) ($0.53)

2 Tbsp honey ($0.25)

1/2 tsp vanilla ($0.15)

1 teaspoon lemon juice (optional)* ($0.01)

1 Tbsp water ($0.00
INSTRUCTIONS
Blend all ingredients in a blender until smooth.

Serve immediately with fresh fruit dip, or refrigerate until ready for consumption.
NOTES
*Lemon juice can be added if desired. The dip is slightly tangier if you add lemon juice.
NUTRITION
Serving Size: 0.25 Cup Calories: 76.2 Kilocalories: 11.33 G Protein: 5.5g Fat: 1.2g Sodium 162.25mg Fiber: 0.03g