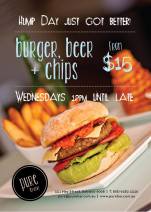 World Famous Burgers – All burgers are served with cos lettuce, sliced tomato & aioli
Pure burger – 100% Beef with caramelised onion & tomato relish.
Chicken burger – Marinated chicken breast with chilli jam, camembert cheese, bacon & avocado.
Vege burger – Roast field mushroom, parmesan cheese & caramelised onion.
BLT, bacon with a tangy BBQ sauce & all the rest.
Moroccan Lamb Burger – tender marinated lamb rump with raita, roasted capsicum & mango chutney.
Steak sandwich – Scotch fillet, caramelised onion, served in a Turkish roll.
Steak & Mushroom Burger- tenderised scotch fillet, creamy mushroom sauce, swiss cheese and that's it.
PLUS THE WEEKLY LIMITED EDITION BURGER.
So what are you waiting for, Wednesday only comes around once a week!!
Wednesday
Pure Bar
12pm-Late
View On Website