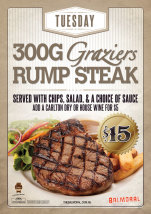 For $15 you get a 300g Graziers Rump Steak served with chips, salad and your choice of sauce.
Add a pint of Carlton Dry or House Wine for $5.
Add egg for $2.
Add bacon of $3.
Add prawns for $12.
Add onion rings for $5.
Add baby squid for $5.
Add soft shell crab $5.
Every Tuesday, Dinner from 5pm, Quiz from 7.30pm.
Tuesday
Balmoral Hotel
5pm-Late
View On Website