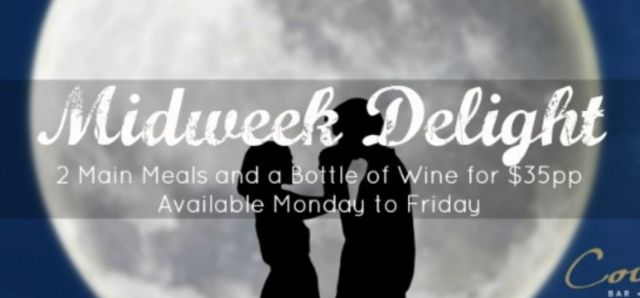 When chasing the most romantic option for your weekly date night, factors like value-for-money might typically be left by the wayside. Luckily, the new Midweek Delight special at Cove Bar and Dining is specially designed to maximize the romance and minimize the hole in your wallet. With our famous Brisbane City views, professional staff and enticing dinner menu, this is modern dining at its finest.
From Monday to Friday, you and your loved one will receive a main each and a bottle of wine to share for $35 per person. Enjoy the culinary exploits of some of Brisbane's best chefs and one of our famous house wines.
We have made the date night decision that much easier with irresistible menu options such as our twice-cooked, crispy skinned pork belly marinated in our award winning chilli paste and served with whole grain mustard, sautéed apple and potatoes. Or will it be the oven roasted lamb rump with eggplant puree, roasted pumpkin, baby beets, cherry tomatoes, and goat cheese yoghurt, dressed with whiskey jus and pistachio nuts?
Weekdays
Cove Bar & Dining
6pm-10pm
View On Website